REAL-PTT company management platform can manage users, groups, and company information. The software uses the B / S structure, it can manage users and groups by the Web, users and groups are managed by business units, every company independently manages their owe radios accounts and groups, Administrator of agent platform can manage company accounts and distribute radios accounts. Every company can add multiple secondary management, users and groups can be managed at different grade.
Company plafrom functions as below:
l Add User
l View User
l Bill
l Add Group
l Group List
l Revise Group
l Setting parents group
l Add Secondary Management
l Revise Secondary Management
l View Audio
l Audio Statistics
l Add Manager
l View Manager
l Set up time of GPS
l Change Password
l View Bill
l Information Statistics
l Login Record
Ø

Login page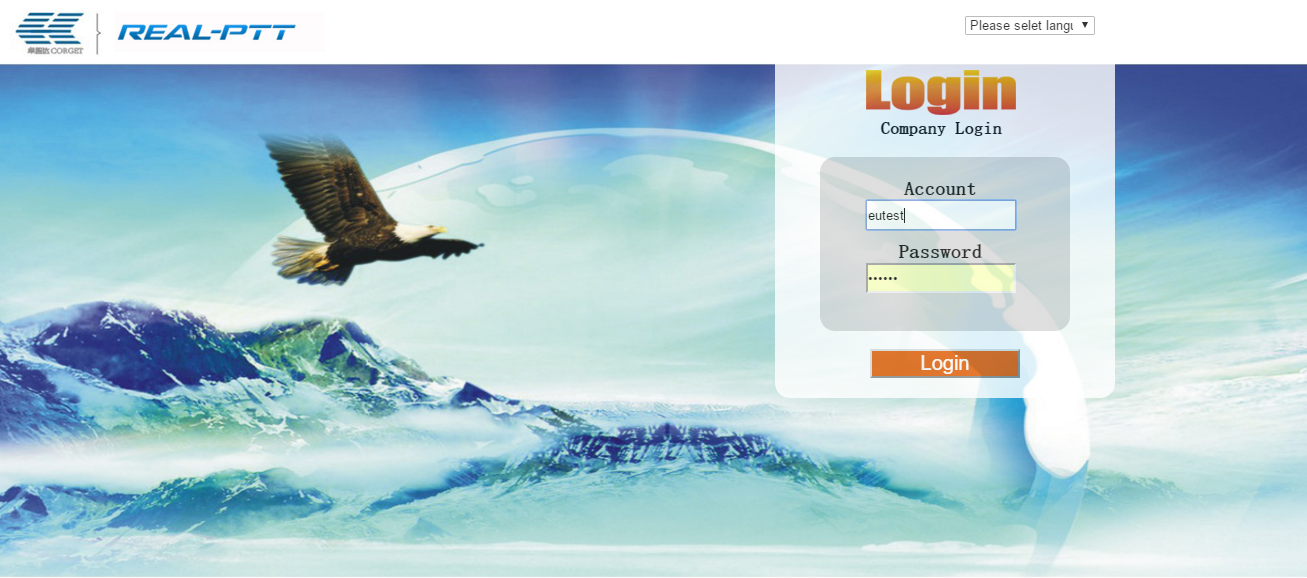 Company platform website: http://www.realptt.com/
Secondary management platform website: http://realptt.com/ptt/part/
Ø

Add user


u Contact:User can add friends who are often in touch with, So user can check friends in the contacts in the dispatcher.
u Single call: The user can create a temporary group to realize one to one private call.
u View location:The user can check group members location in the mobile APP or computer dispatcher when the user login.
u Change group: The radios user can exchange different groups if the radios user is belonging to these group.
u Call Logs:the user can check audios information of group member at the dispatch.
u GPS positioning: the radios location information can be checked in the dispatcher.
u Monitor: the user can monitor the conversation of other group user.
u Platform audio: User can view the platform audios for one month.
u Stun:Force to user to be offline, the radios account can login again after activate the user account
u Display the group members:The members which are belonging to group can be viewed all member of this group.


Ø

View user




Ø

Add group

The group quanties are not limited, but the user accounts should be less than 2000.
Ø

Setting partents group

Parents group can be set in the user accounts, it consists of parent groups and child group. Conversation of parent group can be heard by child group, conversation of child group can be heard by parent group, every child group can't communicate with each other.
Ø

Revise secondary management

Ø

View audios

The audio recording can be saved for one month.
Ø

Add manager

Customer can set one user to be manager to login and manage company platform.
Ø

Set up time of GPS

It is about 5 to 60 second for GPS time.
Ø

View bill

Account bill can be viewed, including booking time, start time, end time subscription account, remaining account.The different color of account bill mean different meaning.